Relevance up to 05:00 2020-03-27 UTC–7
Corona virus news: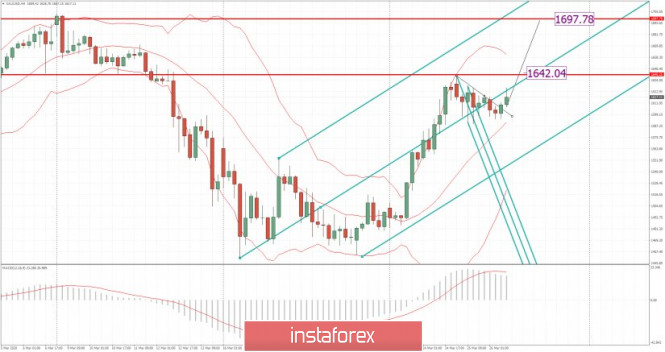 Tokyo faces further isolation measures to prevent an "explosion' of coronavirus cases and there are calls in Hong Kong for a curfew to stop the health system collapsing amid fears of a second wave of infections in eastern Asia.
The governor of Tokyo has asked the city's residents to stay at home this weekend "at all costs" to avoid an "explosion" of Covid-19 infections following a rise in the number of local cases.Yuriko Koike described the situation as "severe", but stopped short of calling for the kind of restrictions on movement now in place in other countries.
Technical analysis:
Gold has been trading sideways at the price of $1.617. Anyway, there is the breakout of the mini Pitchfork channel and confirmation of the bullish continuation.
I expect further upside movement and my advice is to watch for buying opportunities with the upward targets at $1.642 and $1.697.
MACD oscillator is showing positive reading and the slow line looks neutral.
Resistance level is set at the price of $1.642.
Support level is set at the price of $1.590.
*The market analysis posted here is meant to increase your awareness, but not to give instructions to make a trade.
Performed by Petar Jacimovic,
Analytical expert
InstaForex Group © 2007-2020
Benefit from analysts' recommendations right now
Top up trading account
Get a bonus from InstaForex
InstaForex analytical reviews will make you fully aware of market trends! Being an InstaForex client, you are provided with a large number of free services for efficient trading.