Relevance up to 07:00 2020-02-04 UTC–8
Industry news:
Bitcoin Futures are once again in the limelight after Open Interest was found to have surged by over 60% since the beginning of the new year. According to the data provider, Skew markets, Bitcoin Futures reflected rising Open Interest among exchanges and stood at $4 billion.
The aggregated Open Interest was the least on Bakkt – $4.6 million, at the beginning of 2020. However, this changed as the year progressed and on 2 February 2020, it stood at $11 million. A similar trend of rising Futures contract was noted on other exchanges like CME, BitMEX, OKEx, Deribit, and CME as well.
Technical analysis: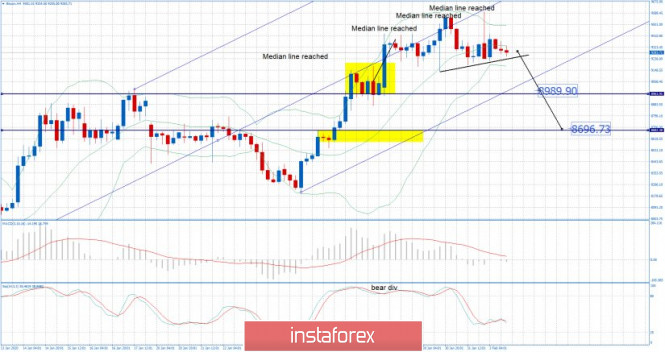 BTC has been trading downwards as I expected last Friday. Another stronger rejection of the Pitchfork median line was the key for the recent downside movement together with the lack of demand around $9.600.
Watch for selling opportunities and potential rotation down towards the $8.972 and $8.792.
MACD oscillator is showing decreasing on the buying power, which adds confirmation for further downside.
Major resistance is set at the price of $9.600
Support levels are seen at the price of $9.000 and $8.700.
*The market analysis posted here is meant to increase your awareness, but not to give instructions to make a trade.
Performed by Petar Jacimovic,
Analytical expert
InstaForex Group © 2007-2020
Benefit from analysts' recommendations right now
Top up trading account
Get a bonus from InstaForex
InstaForex analytical reviews will make you fully aware of market trends! Being an InstaForex client, you are provided with a large number of free services for efficient trading.
Earn on cryptocurrency rate changes with InstaForex
Download MetaTrader 4 and open your first trade