Relevance up to 05:00 UTC–8
Industry news:
Cryptocurrency alongside blockchain is a widely acclaimed and prevalent network in the world. It is being used in many fields of everyday life and is gradually taking over. It is a well-encrypted and protected form of decentralized bank, which is technologically sophisticated and complex. It holds great potential to create tremendous opportunities and is actively gaining a foothold in football as well.
he first major club in Europe to actively accept cryptocurrency payments has been Portugalia club Benfica. In June 2019 the club signed a partnership with the UTRUST payment platform. It allowed fans to purchase merchandise with cryptocurrency, including Bitcoin and Ethereum successfully. In September 2019 Benfica sold tickets through the platform to Leipzig fans, and this move was met with approval.
Technical analysis: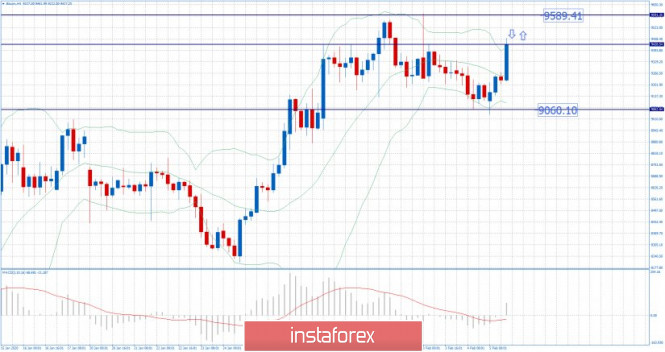 BTC has been trading upwards. The price tested the level of $9.425 and reached the important decision level. I would watch for price action around the important decision level at $9.425.
Eventual breakout of the $9.425 to the upside would lead us to test of $9.590.
The rejection of the $9.425 may lead us to test of $9.060
MACD oscillator is showing neutral stance with the slow line turned to bullish. Since the BTC is in consolidation phase, ignore the oscillator patterns..
Resistance levels are set at $9.425
Support level is set at $9.060
*The market analysis posted here is meant to increase your awareness, but not to give instructions to make a trade.
Performed by Petar Jacimovic,
Analytical expert
InstaForex Group © 2007-2020
Benefit from analysts' recommendations right now
Top up trading account
Get a bonus from InstaForex
InstaForex analytical reviews will make you fully aware of market trends! Being an InstaForex client, you are provided with a large number of free services for efficient trading.
Earn on cryptocurrency rate changes with InstaForex
Download MetaTrader 4 and open your first trade