Relevance up to 06:00 2020-02-07 UTC–8
Industry news: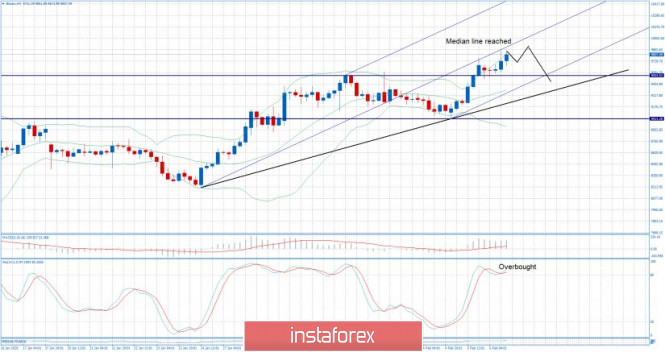 WazirX was the latest Initial Exchange Offering to take place on the Binance Launchpad. It was completed on February 4th, and it raised a total of $2 million.
The sale saw 100,000,000 WRX tokens distributed to the lucky winners, each one of which cost them $0.018. At the time of this writing, WRX is trading at about $0.13, which is about 550% more than its sale price. However, the token peaked at $0.144, which is an increase of exactly 700% against the USD.
Technical analysis:
BTC has been trading downwards upwards. BTC tested Pitchfork median line at $9.900 from the most recent swing and started to slow down. I expect rotation around the Pitchfork median line and few pivot swing to be made.
Watch for selling opportunities and potential rotation down towards the $9.554 and $9.060
Stochastic oscillator is showing overbought reading and potential for sell off…
Major resistances are set at the price of $9.900 and $9.930
Support levels are seen at the price of $9.555 and $9.030.
*The market analysis posted here is meant to increase your awareness, but not to give instructions to make a trade.
Performed by Petar Jacimovic,
Analytical expert
InstaForex Group © 2007-2020
Benefit from analysts' recommendations right now
Top up trading account
Get a bonus from InstaForex
InstaForex analytical reviews will make you fully aware of market trends! Being an InstaForex client, you are provided with a large number of free services for efficient trading.
Earn on cryptocurrency rate changes with InstaForex
Download MetaTrader 4 and open your first trade