Relevance up to 06:00 2020-03-28 UTC–7
Bitcoin news: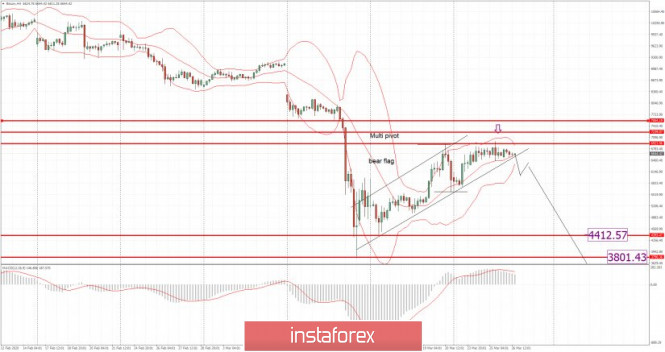 Bitcoin (BTC) has fallen 4% in the past 24 hours, but its losses may be down to an old culprit which has already sparked market volatility and selling pressure.According to data from online monitoring resource Skew, March 27 will see the expiry of Bitcoin options open interest worth 49,400 BTC ($328 million).
Technical analysis:
BTC has been trading sideways at the price of $6.620. I expect further drop on BTC towards the levels at $4.412 and $3.800.
Watch for selling opportunities in case of the breakout of the bearish flag pattern. The breakout of the $6.440 to the downside would confirm further bearish continuation.Downward targets are set at the price of $4.412 and $3.800
MACD oscillator is showing slow upside momentum and the slow line turned to the downside, which is sign of the potential downside continuation.
Resistance levels are set at the price of $7.000 and $7.250.
Intraday support level is set at the price of $6.440.
*The market analysis posted here is meant to increase your awareness, but not to give instructions to make a trade.
Performed by Petar Jacimovic,
Analytical expert
InstaForex Group © 2007-2020
Benefit from analysts' recommendations right now
Top up trading account
Get a bonus from InstaForex
InstaForex analytical reviews will make you fully aware of market trends! Being an InstaForex client, you are provided with a large number of free services for efficient trading.
Earn on cryptocurrency rate changes with InstaForex
Download MetaTrader 4 and open your first trade