Relevance up to 21:00 2019-12-06 UTC–8
On the third day, the pair tests the zone of the average weekly move, which leads to a halt in growth and the formation of a local accumulation zone. The probability of consolidation above the average move by the end of this week is 30%, which makes purchases from current marks not profitable. In order to enter a long position, it will be necessary to lower the pair to yesterday's low or to Weekly Control Zone 1/2 0.6804-0.6798.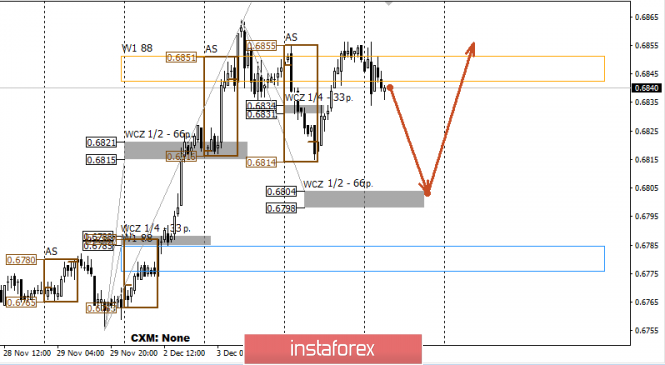 Working in the flat implies the search for entry points at the boundaries of the range. The lower boundary is at a minimum of the last two days.
The upward movement remains a medium-term impulse, and thus, sales from the upper boundary of the accumulation zone should be focused on short profits. On the contrary, purchases from the lower boundary have an excellent perspective, since the main goal of growth is the weekly control zone 0.6875-0.6887.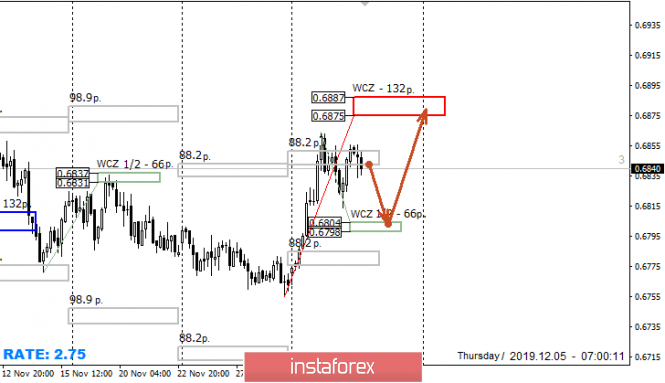 Daily CZ – daily control zone. The zone formed by important data from the futures market that changes several times a year.
Weekly CZ – weekly control zone. The zone formed by the important marks of the futures market, which change several times a year.
Monthly CZ – monthly control zone. The zone that reflects the average volatility over the past year.
*The market analysis posted here is meant to increase your awareness, but not to give instructions to make a trade.
Performed by Samanta Kruder,
Analytical expert
InstaForex Group © 2007-2019
Benefit from analysts' recommendations right now
Top up trading account
Get a bonus from InstaForex
InstaForex analytical reviews will make you fully aware of market trends! Being an InstaForex client, you are provided with a large number of free services for efficient trading.