Relevance up to 20:00 2020-02-04 UTC–8
The pair's decline from today must be considered as corrective. The main support within the day will be WCZ 1/4 1.3112-1.3103. Testing this area will make it possible for you to get the most favorable purchase prices. The zone is within the average daily course, therefore it should be included in today's trading plan. The first growth target will be a retest of last week's high.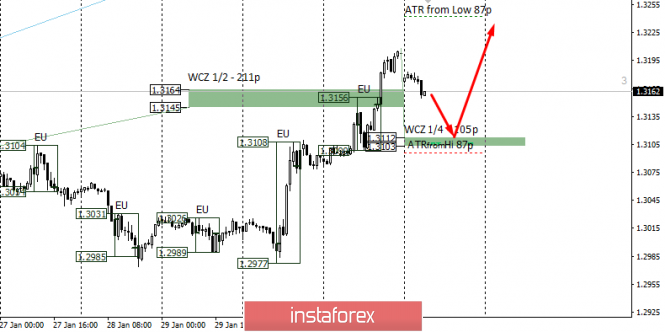 With a decline in the pair, the WCZ 1/4 test may not occur. In this case, it will be necessary to consider the "absorption" pattern after the beginning of the European session.
An alternative model will be developed if the closing of today's trade occurs below the WCZ 1/4. This will allow us to consider the formation of the medium-term accumulation zone. The defining support will be WCZ 1/2 1.3016-1.2997. The probability of cancelling the upward model is 30%, so selling from current levels will not be profitable.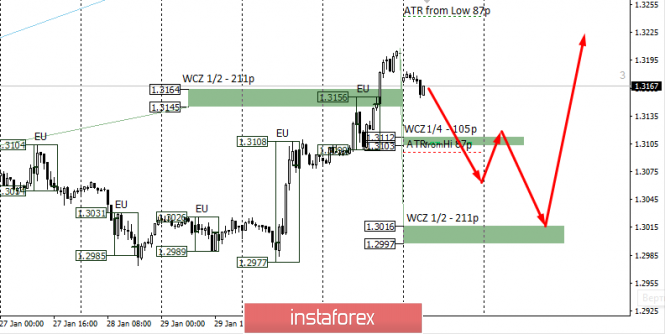 Daily CZ – daily control zone. The area formed by important data from the futures market, which changes several times a year.
Weekly CZ – weekly control zone. The zone formed by important marks of the futures market, which changes several times a year.
Monthly CZ – monthly control zone. The zone, which is a reflection of the average volatility over the past year.
*The market analysis posted here is meant to increase your awareness, but not to give instructions to make a trade.
Performed by Samanta Kruder,
Analytical expert
InstaForex Group © 2007-2020
Benefit from analysts' recommendations right now
Top up trading account
Get a bonus from InstaForex
InstaForex analytical reviews will make you fully aware of market trends! Being an InstaForex client, you are provided with a large number of free services for efficient trading.