Relevance up to 21:00 2020-02-08 UTC–8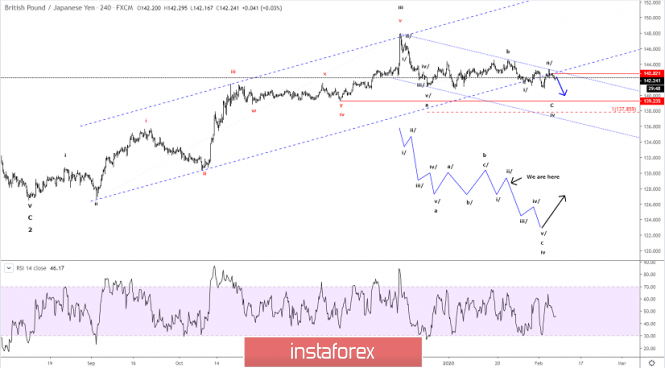 GBP/JPY hit 142.82. It broke below short-term important support at 142.20 which indicates more downside pressure in wave c of iv towards the ideal target at 139.24 and maybe even closer to 137.86.
The 142.82 peak should now be able to cap the upside for more downside pressure. The low has been seen at 140.80 and the final rally to above the peak of wave iii at 147.94 is developing.
R3: 142.82
R2: 142.55
R1: 142.29
Pivot: 142.06
S1: 141.71
S2: 141.44
S3: 141.23
Trading recommendation:
We sold GBP at 142.80 and we will place our stop+revers at 142.90.
*The market analysis posted here is meant to increase your awareness, but not to give instructions to make a trade.
Performed by Torben Melsted,
Analytical expert
InstaForex Group © 2007-2020
Benefit from analysts' recommendations right now
Top up trading account
Get a bonus from InstaForex
InstaForex analytical reviews will make you fully aware of market trends! Being an InstaForex client, you are provided with a large number of free services for efficient trading.