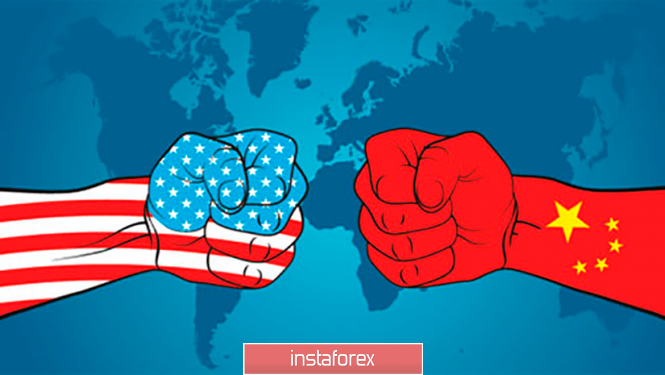 A trade war is a complex and lengthy process. No analyst or expert in the world can fully cover and analyze all aspects of trade disputes between the two largest economies in the world. Opinions among analysts about the signing of the "first phase" trade agreement between Beijing and Washington are divided. Some believe that Trump outplayed himself and did not achieve his goals, some believe that the "deal" for China is like suicide. In this article, we will look at the entire situation on the part of the United States.
The main thing that all experts agree on is that ordinary consumers and businesses in America pay for Donald Trump's trade battles. A banal logical chain: Trump imposes duties on imports from China, Chinese goods become more expensive in America, consumers pay more money for the same goods. Donald Trump wanted to achieve several goals at once with the war with China, one of which is to stimulate the consumption of American goods, which would stimulate American production and, consequently, employment growth and economic growth. However, in practice, it turned out that even with 25% of duties, many goods from China are still cheaper than their American counterparts, so American consumers who previously bought Chinese goods continued to buy them after the introduction of duties. The same goes for business. It should be understood that China does not export goods to America at the state level. American companies make purchases in China for further resale. Accordingly, again, losses were incurred either by businesses that import from China or by the end consumers for whom prices rose.
Many experts also note that the "first phase" agreement is the easiest part of the overall deal. Trump wants to force Beijing to stop stealing technology, financing and supporting Chinese companies, which leads to unfair international competition and reduces the trade deficit with China. Such complex tasks are unlikely to be solved by banal negotiations, and even in a short time. After all, Trump wants to get as many bonuses as possible for the November presidential election to increase his chances of winning. It turns out that Trump started the war to strengthen the US economy by weakening its main competitors: China, Europe, Canada, and Mexico. Agreements with many countries were broken, and the system of WTO rules was destroyed. The IMF estimated that Trump's trade wars have already cost the world $700 billion. Trump himself said a year and a half ago that "trade wars are good and easy to win." Approximately this thesis was stated in George Orwell's immortal novel "1984": "war is peace, peace is war." For Donald Trump, the way forward is through constant conflicts, wars with other countries. It may even produce results, or it may lead to something irreversible and destructive.
Moreover, various economic theories have stated that if a large country, such as the United States, imposes import duties, it will force producers to lower prices (which will lead to a weakening of the producing countries). However, in practice, prices were not reduced, so imported goods simply rose in price in the States. In this situation, it is very useful to pay attention to the main indicator of the state of any economy – GDP. In the last two quarters in the US, it was +2.0% and +2.1% y/y. In the first quarter, it was +3.1%, and in the quarter before that, it was only +1.1%. It is believed that the GDP growth rate of more than 2.5% is high. Thus, it is safe to say that the US economy either does not respond to Trump's trade wars, or on the contrary, loses its growth rate. And how can we not remember the "secret" monetary injections into the economy of the Fed…
*The market analysis posted here is meant to increase your awareness, but not to give instructions to make a trade.