Relevance up to 05:00 UTC–8
EUR / USD – 4 H.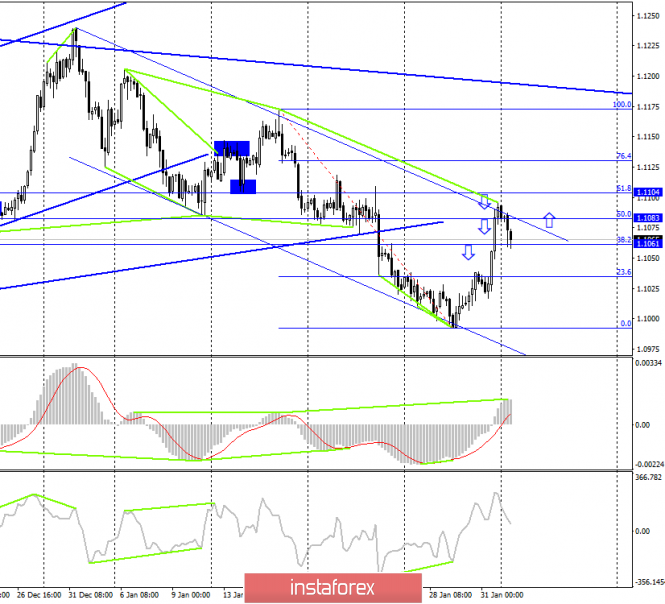 Good evening, dear traders! The EUR/USD currency pair on the 4-hour chart went up another 40 basis points as I expected on Friday and reversed near the top line of the downward trend range in favor of the US currency and resumed the decline. I expected just such a development of events and recommended selling the euro with an obvious rebound from one of the correction levels of 38.2% or 50.0% or 61.8%. Unfortunately, none of these levels rebounded, and the pair continued to increase until the market closes on Friday. Today, we see a mirror movement of the euro / dollar pair. For those who managed to start selling tonight – I recommend to be careful, since the downward trend may end if quotes declined from the Fibo level of 38.2% – 1.1061. In this case, I will wait for a reversal in favor of the European currency and another test of the upper line of the range, which will most likely be successful this time. And the pair's course going beyond the range will show that the mood of the traders has changed to "bullish". Therefore, it will be necessary to buy a pair in this case and not sell it.
Forecast on EUR / USD and recommendations to traders:
The new trading idea consists in further sales of the pair when closing below the Fibo level of 38.2% – 1.1061 with targets at 1.1034 and 1.0992. However, if the pair first rebounds from the level of 1.1061, and then goes beyond the range then I will recommend buying euros with the goals of 1.1104 and 1.1130.
*The market analysis posted here is meant to increase your awareness, but not to give instructions to make a trade.
Performed by Samir Klishi,
Analytical expert
InstaForex Group © 2007-2020
Benefit from analysts' recommendations right now
Top up trading account
Get a bonus from InstaForex
InstaForex analytical reviews will make you fully aware of market trends! Being an InstaForex client, you are provided with a large number of free services for efficient trading.