Relevance up to 04:00 UTC–8
EUR/USD-4H.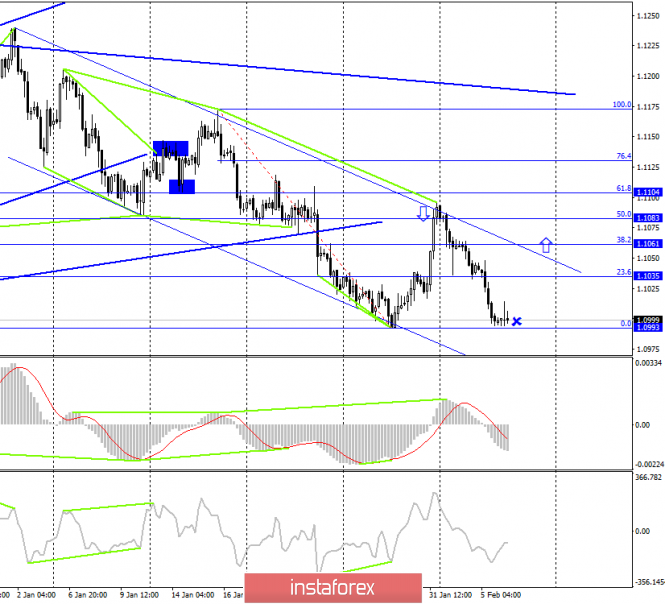 Good day, dear traders! As seen on the 4-hour chart, the EUR/USD currency pair has worked out two levels over the past two days, which I called the target levels in the framework of the last trading idea. First, the pair's quotes overcame the corrective level of 23.6% (1.1035), and now they have performed a fall to the Fibo level of 0.0% (1.0993). Thus, I believe that sales can be closed around this level. The rebound of quotes from the level of 1.0993 will allow traders to expect a reversal in favor of the European currency and some growth in the direction of the upper area of the downward trend corridor, which remains working. Based on this, the general mood of traders remains "bearish". However, I believe that in the coming days, the pair may make another attempt to consolidate over the descending corridor, which will change the mood of traders to "bullish". After that, I will recommend buying the euro currency. There is no information background for the euro-dollar pair on Thursday. There will be no interesting economic reports today.
Forecast for EUR/USD and trading recommendations:
The new trading idea is to rebound quotes from the Fibo level of 0.0% (1.0993). In this case, you can buy a pair with goals in the upper line of the trend range, and place Stop Loss levels below the level of 0.0%. Thus, the stop will be very short, and the probability of growth of quotes is quite high. A stronger trading idea is to close the pair's quotes above the trend range, which will allow you to buy euros with targets near the levels of 1.1100 and 1.1200.
*The market analysis posted here is meant to increase your awareness, but not to give instructions to make a trade.
Performed by Samir Klishi,
Analytical expert
InstaForex Group © 2007-2020
Benefit from analysts' recommendations right now
Top up trading account
Get a bonus from InstaForex
InstaForex analytical reviews will make you fully aware of market trends! Being an InstaForex client, you are provided with a large number of free services for efficient trading.