Relevance up to 07:00 2020-02-07 UTC–8
Technical analysis: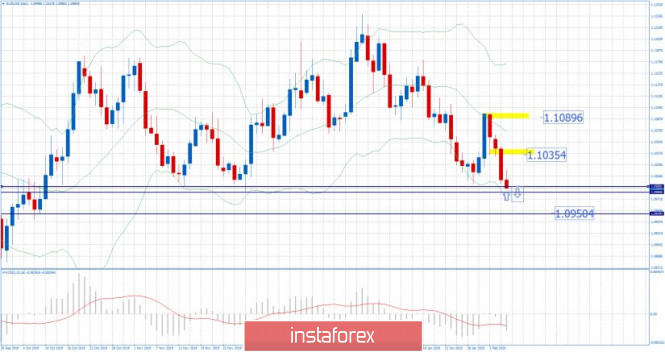 EURR/USD has been trading downwards. The price is at the multi-pivot support at the price of 1.0980 . Watch carefully the price action around this critical short-term support to confirm further direction.
The rejection of the 1.0980 may confirm further rally into the 1.1035-1.1089
The eventual stronger breakout of 1.0980 may confirm test of 1.0950.
I would avoid selling into the support and watch for eventual rejection and rally to happen…
MACD is showing negative reading but no new momentum to the downside.
Resistances levels are seen at the price of 1.1035 and 1.1089
Key support level is set at 1.0980
*The market analysis posted here is meant to increase your awareness, but not to give instructions to make a trade.
Performed by Petar Jacimovic,
Analytical expert
InstaForex Group © 2007-2020
Benefit from analysts' recommendations right now
Top up trading account
Get a bonus from InstaForex
InstaForex analytical reviews will make you fully aware of market trends! Being an InstaForex client, you are provided with a large number of free services for efficient trading.