Relevance up to 04:00 2020-01-25 UTC–8
EUR has been trading downwards. As I expected, after the ECB Press Conference yesterday, the price tested our first downward target from yesterday at the level of 1.1040. I see further downside on the EUR and potential test of our second target at 1.1000.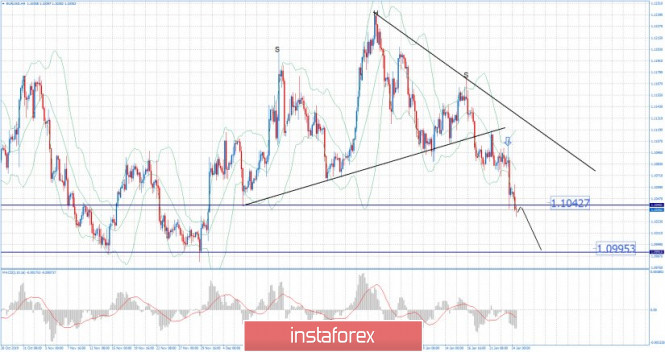 The rejection of Head and Shoulders pattern in the background was key factor for the downside. My advice is still to watch for selling opportunities on the rallies using intraday-frames 5/15 minutes.
MACD oscillator is showing new momentum down and the slow line is turned to the downside.
Resistance levels are set at the price 1.1040 and 1.1060
Support level and our second target is set at the price of 1.1000.
*The market analysis posted here is meant to increase your awareness, but not to give instructions to make a trade.
Performed by Petar Jacimovic,
Analytical expert
InstaForex Group © 2007-2020
Benefit from analysts' recommendations right now
Top up trading account
Get a bonus from InstaForex
InstaForex analytical reviews will make you fully aware of market trends! Being an InstaForex client, you are provided with a large number of free services for efficient trading.