Relevance up to 05:00 2020-01-23 UTC–8
EUR/USD – 4H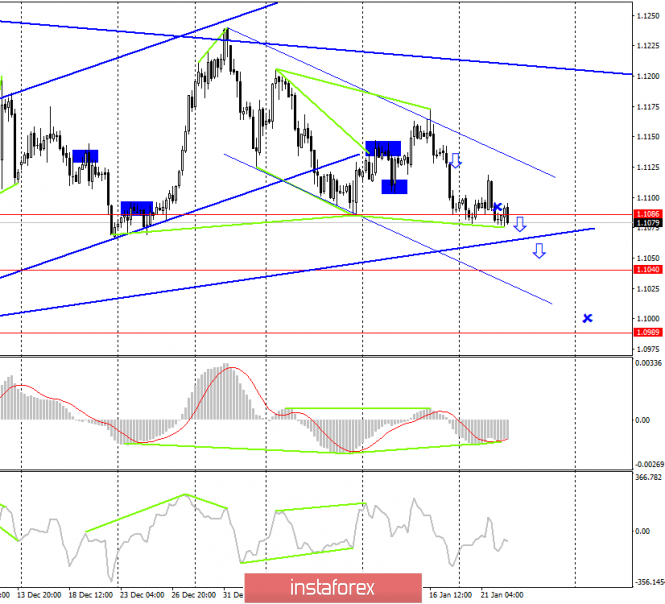 As seen on the 4-hour chart, the EUR/USD pair performed a reversal in favor of the US currency and resumed the process of falling, but again hit the low level of 1.1086, from which it rebounded last time. Also, a new bullish divergence has been formed for the MACD indicator, which allows us to count on a new reversal in favor of the European currency and some growth in the direction of the upper area of the trend downward corridor. Also, a long-term upward trend line is formed (it is better visible on the daily chart), which supports bull traders. Thus, at the moment, several signals can be formed at once, and in different directions. I still expect the quotes to consolidate below the level of 1.1086 and continue falling towards the next level – the low of 1.1040, and then even lower. Downward trend channels (global and small) are still valid, and clearly show the current mood of the market. The information background is weak today, traders are waiting for the results of tomorrow's meeting of the European Central Bank.
EUR/USD – daily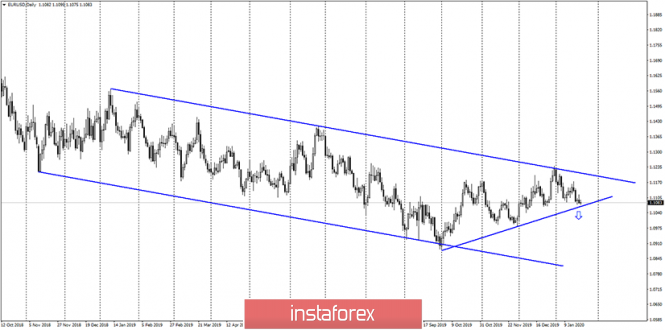 As seen on the 24-hour chart, we still have a trading idea with a drop to the lower border of the downward trend corridor. However, at the moment, there is also a new trend line, which we discussed above. Thus, fixing the pair's quotes along this line will significantly increase the probability of a further fall in the direction of the approximate target level of 1.0850.
Forecast for EUR/USD and trading recommendations:
The long-term trading idea remains valid. Traders still have a long-term target for a fall near the level of 1.0850. It is advisable to open new sales for this trading idea after closing under the trend line.
The short-term trading idea is to sell the pair with the goal of 1.1040 since the trend on the 4-hour chart remains "bearish". The trend line may not send quotes so low, so for both trading ideas, you can try to wait for the euro-dollar pair to close below this line.
*The market analysis posted here is meant to increase your awareness, but not to give instructions to make a trade.
Performed by Samir Klishi,
Analytical expert
InstaForex Group © 2007-2020
Benefit from analysts' recommendations right now
Top up trading account
Get a bonus from InstaForex
InstaForex analytical reviews will make you fully aware of market trends! Being an InstaForex client, you are provided with a large number of free services for efficient trading.