Relevance up to 06:00 2020-01-29 UTC–8
EUR/USD – 4H.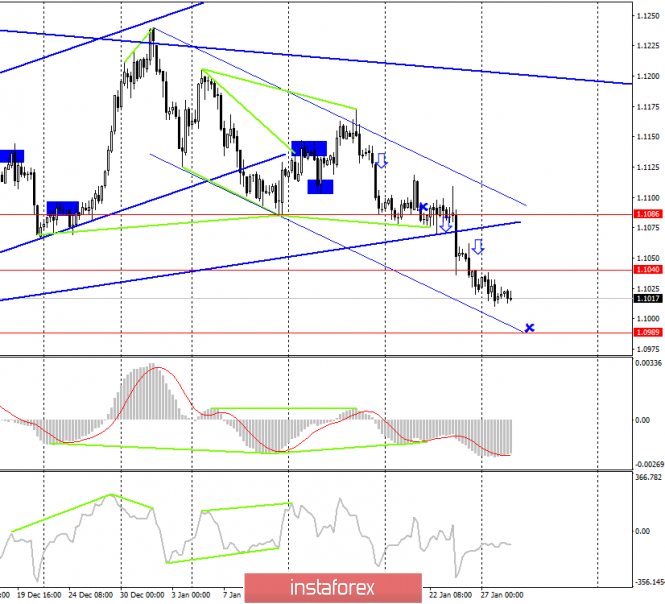 As seen on the 4-hour chart, the EUR/USD pair continues the weak process of falling in the direction of the target I indicated – the low level of 1.0989. Since the information background is practically absent in recent days, the movement is very weak. However, there are no pending divergences for any indicator, as well as other signals indicating a possible pullback of quotes up. The only thing that should be immediately noted – today's report on orders for long-term products in the United States. This is a fairly important report, so traders can respond to it with stormy purchases or sales of the euro-dollar pair. If the report is strong-well, the probability of working out the goal of 1.0989 today will increase several times. If the report is weak and the pair do not have time to perform a fall to the level of 1.0989 by this time, then a reversal in favor of the European currency may follow and some growth in the direction of the upper area of the downward trend corridor, which continues to eloquently indicate the current mood of traders.
Forecast for EUR/USD and trading recommendations:
The long-term trading idea remains valid. Traders still have a long-term target for a fall near the level of 1.0850, confirmed by the closing of the pair's rate below the trend line.
The short-term trading idea is to sell the pair with a target of 1.0989 since the trend on the 4-hour chart remains "bearish". Stop Loss levels can now be placed behind the level of 1.1040. In the US session, we closely monitor the report on orders in the US, and if it turns out to be worse than forecasts, we can close deals for sale.
*The market analysis posted here is meant to increase your awareness, but not to give instructions to make a trade.
Performed by Samir Klishi,
Analytical expert
InstaForex Group © 2007-2020
Benefit from analysts' recommendations right now
Top up trading account
Get a bonus from InstaForex
InstaForex analytical reviews will make you fully aware of market trends! Being an InstaForex client, you are provided with a large number of free services for efficient trading.