Relevance up to 08:00 UTC–8
EUR / USD – 4H.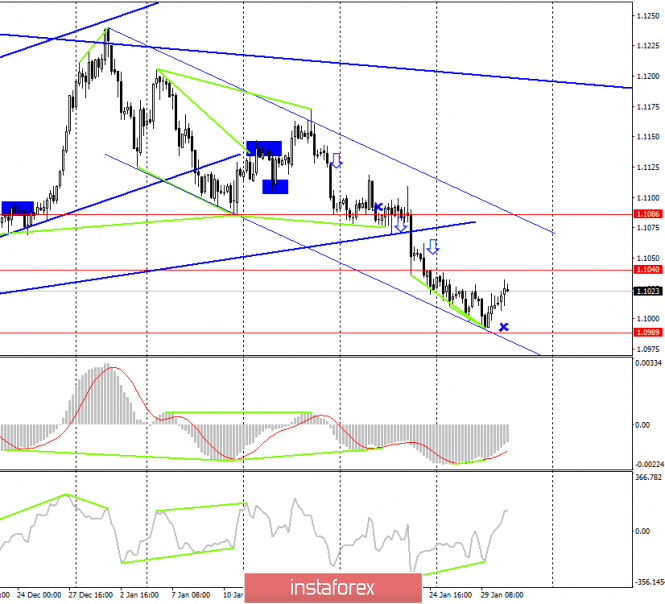 Good evening, dear traders! The trading idea that I described in recent reviews has worn out all its working capacity. Yesterday,, the quotes of the pair completed a reversal immediately after the formation of two bullish divergences in favor of the European currency and began the growth process. The euro-dollar pair did not reach the target level by just 3-4 points, but in my review yesterday, I said that the pair could pullback to the top, and the goal can be considered completed. In this case, the pair remains inside the downward trend range, which continues to show what mood the traders have at the moment – "bearish".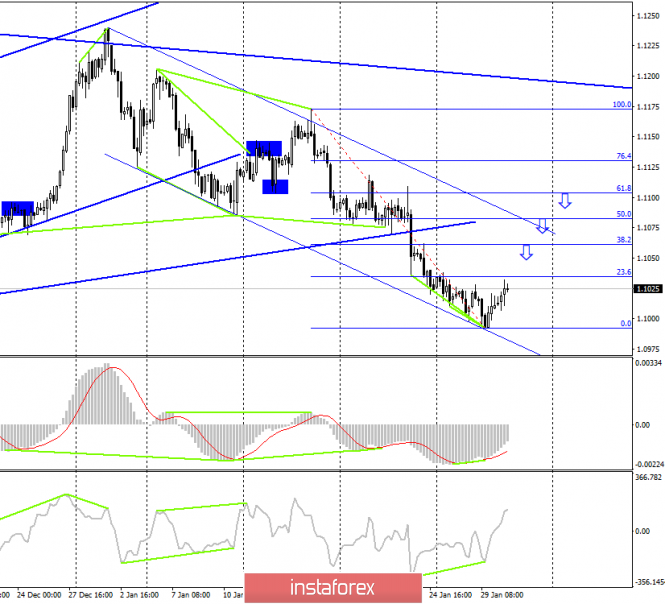 A new trading idea is as follows: I recommend waiting for the quotes to roll back to the area of the upper line of the downward range. The levels of correction to the last decline of the pair – 38.2%, 50.0% and 61.8% are near this line. From one of them, provided that they do not leave the trend anger itself, they can rebound with a reversal in favor of the American currency and resume falling below the level of 1.1000. Let me remind you that, traders have the right to count on quotes falling in the direction of the low level of 1.0850, according to a long-term trading idea. Thus, I recommend waiting for the pair to increase in the coming days and looking for entry points for new sales. Otherwise, in case that quotes complete fixing over the range, then this trading idea will be canceled.
EUR / USD – Daily.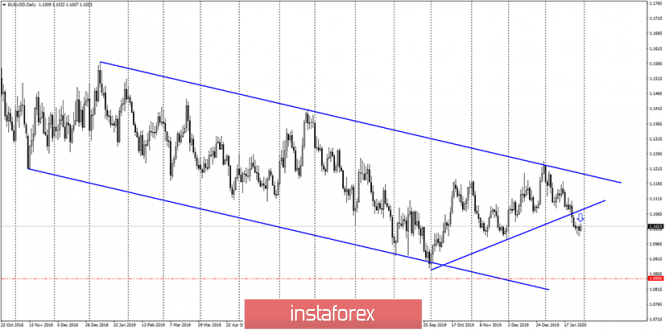 There are no changes on the 24-hour chart. After the pair closes below the trend line, I recommend counting on a continued decline in the direction of the level of 1.0850. This goal is relevant as long as the quotes are located inside the global trend downward range.
Forecast on EUR / USD and recommendations to traders:
The long-term trading idea remains valid. Traders still have a long-term target for declining near the level of 1.0850, confirmed by the pair closing below the trend line. In this regard, the terms of its implementation can be 1-2 weeks.
The short-term trading idea is the pair's new sales with rebound from correction levels of 38.2%, 50.0% or 61.8%. A prerequisite is the absence of quotes outside the downward range.
*The market analysis posted here is meant to increase your awareness, but not to give instructions to make a trade.
Performed by Samir Klishi,
Analytical expert
InstaForex Group © 2007-2020
Benefit from analysts' recommendations right now
Top up trading account
Get a bonus from InstaForex
InstaForex analytical reviews will make you fully aware of market trends! Being an InstaForex client, you are provided with a large number of free services for efficient trading.