Relevance up to 09:00 2020-01-23 UTC–8
EURUSD is trading still below 1.11 but above the key support of 1.1050-1.1060 as we explained in previous analysis. Today we show how this area between 1.1060-1.1070 is support and what can see expect next.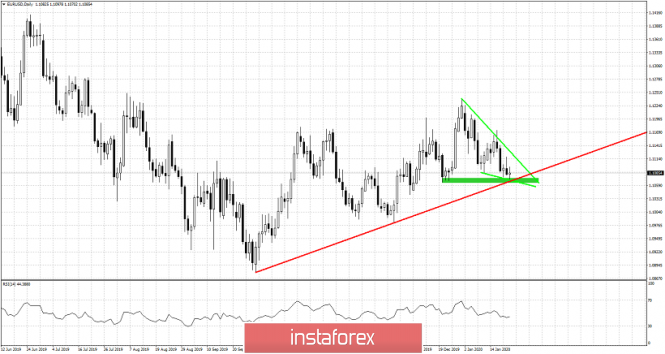 Green rectangle – horizontal support
Red line – upward sloping support trend line
Green lines – bullish wedge pattern
First we observe that price is above the horizontal support from mid-December lows. Price is also testing the upward sloping trend line support. Price is inside a green wedge pattern. So far price respects support in the area of 1.1060-1.1080. The chances of a reversal and a move towards 1.1150 are realistic and bears need to be very cautious. A daily close above 1.1120 will be a bullish signal confirming the strength of support. The risk reward ratio favors bullish positions at this current point in time. If price fails to hold above 1.1050 then we can turn bearish again with potential to move much lower.
*The market analysis posted here is meant to increase your awareness, but not to give instructions to make a trade.
Performed by Alexandros Yfantis,
Analytical expert
InstaForex Group © 2007-2020
Benefit from analysts' recommendations right now
Top up trading account
Get a bonus from InstaForex
InstaForex analytical reviews will make you fully aware of market trends! Being an InstaForex client, you are provided with a large number of free services for efficient trading.