Relevance up to 04:00 UTC–8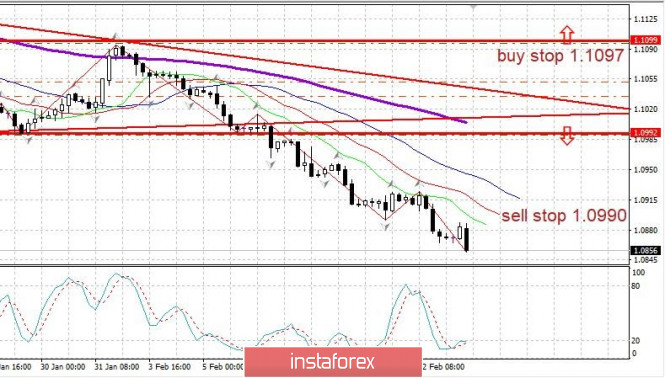 The fall in EURUSD intensified after Wednesday released very poor data on industrial production in the eurozone.
On Thursday, world markets received a new negative epidemic in China – it turned out that previous data on the spread of the virus were significantly underestimated by the authorities. In fact, there are now 60 thousand infected and 1300 dead from coronavirus.
It is not yet clear what exactly is the reason for the euro's fall – perhaps major players consider the eurozone economy more dependent on China than the US or Britain. Perhaps the fall of the euro is reinforced by the break of important support at 1.0880.
So far, the fact is that the rest of the world's major currencies do not fall as actively against the dollar as the euro – everything is steady (pound, franc, yen).
EURUSD: We hold sales from 1.0990.
New sales must be opened with a strong growth to the top – from 1.0940 or higher.
*The market analysis posted here is meant to increase your awareness, but not to give instructions to make a trade.
Performed by Sam Alan,
Analytical expert
InstaForex Group © 2007-2020
Benefit from analysts' recommendations right now
Top up trading account
Get a bonus from InstaForex
InstaForex analytical reviews will make you fully aware of market trends! Being an InstaForex client, you are provided with a large number of free services for efficient trading.