Relevance up to 18:00 2020-01-24 UTC–8
AUD / USD
The Australian dollar absorbed a positive market sentiment relative to the British pound yesterday, and just this morning, this news was actively played back on the positive employment data. By December, about 29 thousand people got a job, this is contrary and higher than the 15 thousand on the forecast. This makes the overall unemployment rate fell from 5.2% to 5.1%. In the Asian session, the growth of the "Australian dollar" graduated to 34 points, and the price exactly reached the MACD line on the daily chart. In the European session, exit above the line 0.6880 with consolidation above it and on Friday, the growth may extend to the price channel line 0.6903.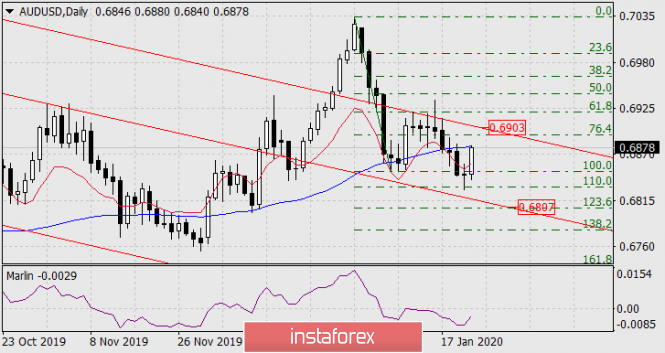 The price exceeded the MACD line on the four-hour chart but is still under the balance line, which means that the situation is developing mainly according to the older chart. For this day, everything will depend on whether the price can fix itself above the MACD line on the daily chart. The signal line of the Marlin oscillator in the zone of positive values is already a sign of the price's intention to overcome the resistance of the senior TF, but in any scenario this growth is corrective.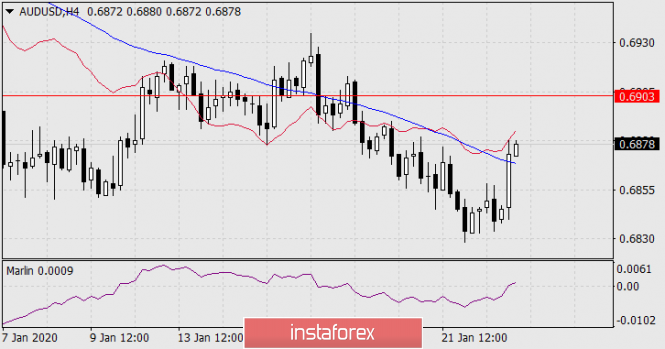 *The market analysis posted here is meant to increase your awareness, but not to give instructions to make a trade.
Performed by Laurie Bailey,
Analytical expert
InstaForex Group © 2007-2020
Benefit from analysts' recommendations right now
Top up trading account
Get a bonus from InstaForex
InstaForex analytical reviews will make you fully aware of market trends! Being an InstaForex client, you are provided with a large number of free services for efficient trading.