Relevance up to 18:00 2020-02-04 UTC–8
EUR/USD
The market returned to normal on Monday. The dollar index rose 0.4% with the British pound as the leader, which collapsed by 209 points due to fears of a disorderly Brexit at the end of the year – according to news agencies, Boris Johnson allegedly does not seek a good deal that can give the rules of the Customs Union, the EU and the WTO, and is developing more stringent conditions for the legal justification of distancing from these rules.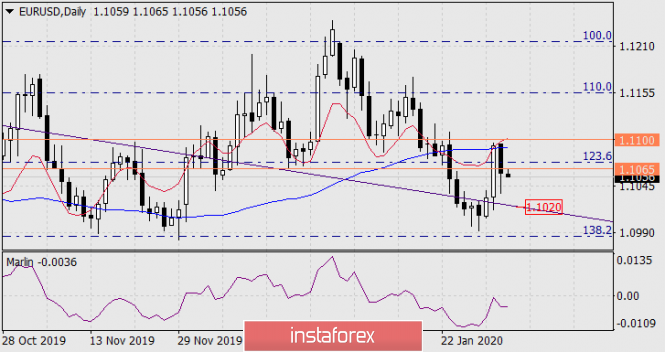 The euro lost 32 points, breaking the support of the uncertainty range of 1.1065-1.1100. The U-turn came from the MACD line and the line of balance. The Marlin oscillator turned down without leaving the declining trend zone. The 1.1020 target is open on the support of the embedded price channel line.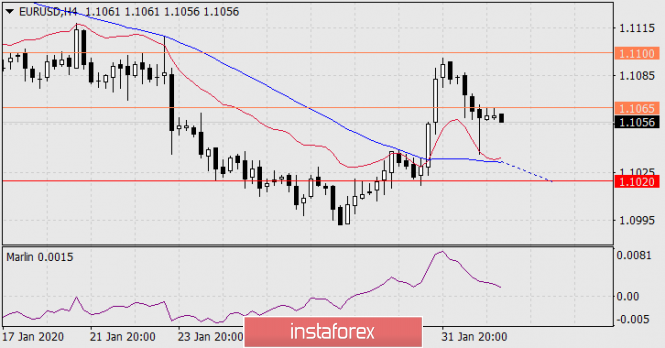 On the four-hour chart, the price still remains in the growth trend – the price is above all indicator lines and Marlin is in the growth zone. To fully consolidate the downward trend, the price needs to gain a foothold under the MACD line, which almost coincides with the target level on the daily chart (taking into account its further decrease). As a result, an aggressive correction is possible from the level of 1.1020.
*The market analysis posted here is meant to increase your awareness, but not to give instructions to make a trade.
Performed by Laurie Bailey,
Analytical expert
InstaForex Group © 2007-2020
Benefit from analysts' recommendations right now
Top up trading account
Get a bonus from InstaForex
InstaForex analytical reviews will make you fully aware of market trends! Being an InstaForex client, you are provided with a large number of free services for efficient trading.