Relevance up to 18:00 2020-01-24 UTC–8
GBP/USD
The pound fell by 16 points on Thursday. This was not enough for technical indicators to show a decrease in the risk of continued growth. On the daily scale, the price continues to develop above the balance line, since the Marlin oscillator has only slightly decreased in the growth trend zone. The development of the magnetic point at 1.3207, formed by the intersection of the Fibonacci level of 200.0% and the MACD line, can still take place.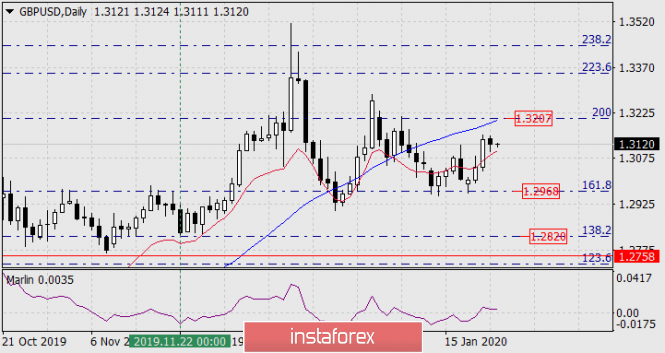 On the four-hour chart, a small consolidation and decline occurred in the area of the correction level of 38.2% of the extremes on December 13 and 23. The price is also higher than the indicator lines of balance and MACD, Marlin remains in the growth zone.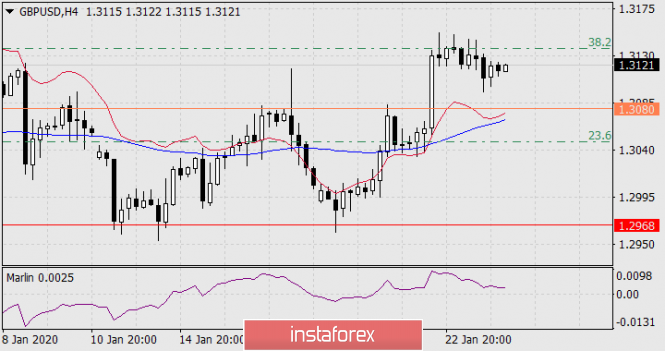 The price will retain increasing potential until it goes below the signal level 1.3080 – this is the growth potential of the MACD line for the next day and technical resistance on January 16, 21 and earlier record extremes. Consolidation at 1.3080 will allow a decrease to develop towards the first target of 1.2968 – to the Fibonacci level of 161.8% on a daily scale.
*The market analysis posted here is meant to increase your awareness, but not to give instructions to make a trade.
Performed by Laurie Bailey,
Analytical expert
InstaForex Group © 2007-2020
Benefit from analysts' recommendations right now
Top up trading account
Get a bonus from InstaForex
InstaForex analytical reviews will make you fully aware of market trends! Being an InstaForex client, you are provided with a large number of free services for efficient trading.