Relevance up to 05:00 UTC–8
GBP / USD – 4H.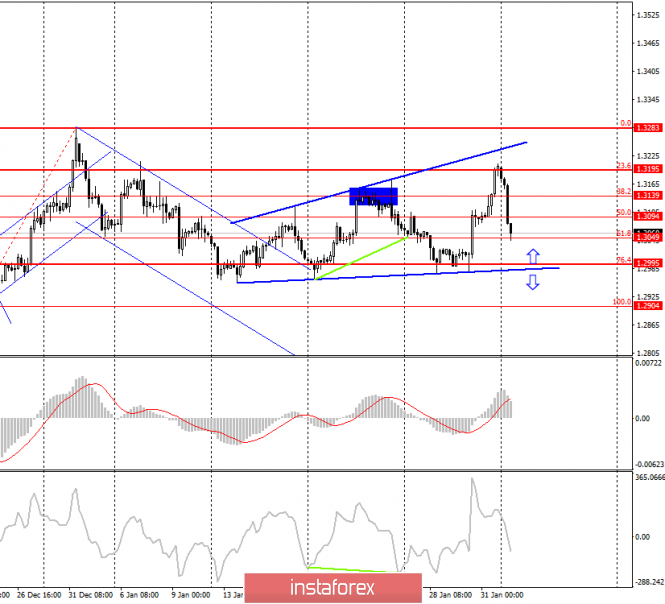 Good evening, dear traders! In a Friday review, I did not recommend buying the pound, even if a close was made over the trend line. I was afraid that a strong information background, or rather, only one Brexit, could cause surges in the market. It turned out approximately as I expected. The rebound of the quotes worked already from the level of 23.6% – 1.3195 in favor of the American currency, and quotes declined again in the direction of the already familiar global correction line near the correction level of 76.4% – 1.2995. Thus, now, I recommend waiting for the decline to this level and near which, the pair will have several options. It is on the basis of these options that new trading ideas have been formed. Firstly, traders will be able to witness a new and next rebound from the level of 1.2995. After that, a reversal in favor of the British currency and a new growth will be made. Secondly, the long-awaited closing can be performed under the Fibo level of 76.4% and the correction line, which will allow traders to expect a strong decline of the pair. There is no emerging divergence today, and Monday's informational background is of secondary importance, although it has quite important economic data on business activity in the manufacturing sectors of European countries and the USA.
Forecast on GBP / USD and recommendations to traders:
A new trading idea is to sell the pound when fixing below the correction line with the target of 1.2904 (the first goal, the decline in quotes can be much stronger). At the same time, quotes rebound from 1.2995 – recommended purchases with a target of Fibo level of 50.0% – 1.3094.
*The market analysis posted here is meant to increase your awareness, but not to give instructions to make a trade.
Performed by Samir Klishi,
Analytical expert
InstaForex Group © 2007-2020
Benefit from analysts' recommendations right now
Top up trading account
Get a bonus from InstaForex
InstaForex analytical reviews will make you fully aware of market trends! Being an InstaForex client, you are provided with a large number of free services for efficient trading.