Relevance up to 07:00 2020-01-24 UTC–8
GBP/USD – 4H.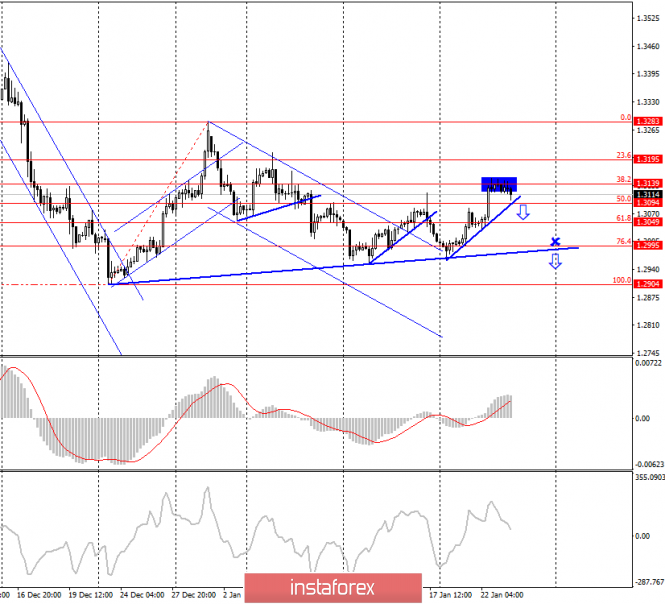 As seen on the 4-hour chart, the GBP/USD pair performed an increase to the corrective level of 38.2% (1.3139). At the moment, traders have not been able to close above this Fibo level, so the rebound of quotes will work in favor of the US dollar and the resumption of the fall. Fixing the pair's rate under the upward correction line will also work in favor of the US dollar and falling in the direction of the global correction line near the level of 76.4% (1.2995). There are no emerging divergences today. Closing the pair's rate above the Fibo level of 38.2% will cancel or delay expectations of a fall in the British dollar for some time. The pound-dollar pair had no information background today. There is no news from the UK (important). There were only reports that the Parliament (both Houses) finally approved the Brexit bill and now the matter remains small – the signature of Queen Elizabeth II. There is even less news on the trade agreement with the European Union. British Finance Minister Sajid Javid said the deal could be signed in both goods and services. However, this is the opinion of the British Minister and not the EU Ministers. It's too early to be happy.
Forecast for GBP/USD and trading recommendations:
The trading idea is still in the sales of the pound. Near the level of 1.3139, I expect a reversal with a further fall to 1.2995. I recommend that traders wait for the close below the corrective line and make a Stop Loss for the Fibo level of 38.2% (1.3139).
*The market analysis posted here is meant to increase your awareness, but not to give instructions to make a trade.
Performed by Samir Klishi,
Analytical expert
InstaForex Group © 2007-2020
Benefit from analysts' recommendations right now
Top up trading account
Get a bonus from InstaForex
InstaForex analytical reviews will make you fully aware of market trends! Being an InstaForex client, you are provided with a large number of free services for efficient trading.