Relevance up to 06:00 2020-01-29 UTC–8
GBP/USD – 4H.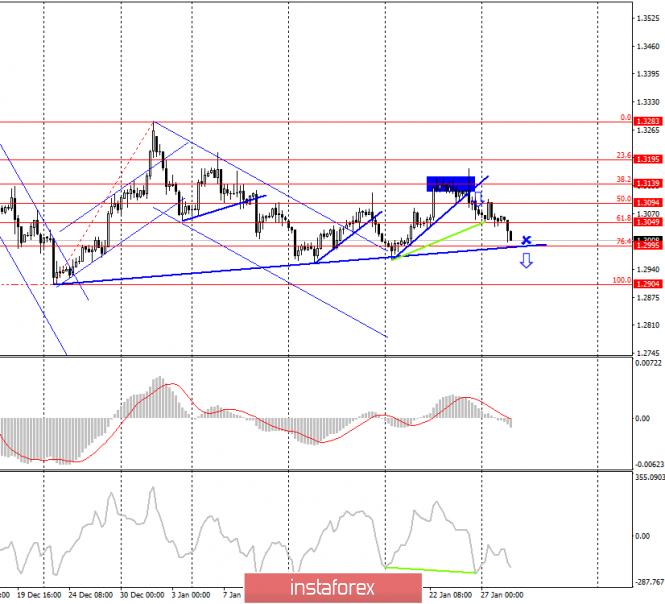 As seen on the 4-hour chart, the GBP/USD pair made a reversal in favor of the US currency after rebounding from the corrective level of 50.0% (1.3094) and resumed the process of falling in the direction of the target I indicated – the Fibo level of 76.4% (1.2995). At the time of writing, about 15 points remained to this level, which means that it has already been practically worked out. From the corrective level of 76.4%, a rebound can be made with a reversal in favor of the British and the growth process can begin. Also, the pair's quotes can perform a rebound from the global correction line, which passes very close to the corrective level of 76.4%. If the pair still falls to the level of 1.2995, we can assume that the trading idea has been worked out perfectly. If the pair closes below the correction line and the level of 1.2995, then a new trading idea will be formed immediately, again for sales with the goal of the corrective level of 100.0% (1.2904), that is, Take Profit will be another 70-90 points. There are no pending divergences in any indicator today, and the information background will be in the same report on orders for long-term products in the United States. If the report is weak, the probability of the pair's quotes rebounding from the correction line will increase.
Forecast for GBP/USD and trading recommendations:
The trading idea is still in the sales of the pound. Near the level of 1.3139, there was a reversal with a close under the correction line. I recommend that traders stay in sales with a target of 1.2995 until the report on orders in the US is released.
*The market analysis posted here is meant to increase your awareness, but not to give instructions to make a trade.
Performed by Samir Klishi,
Analytical expert
InstaForex Group © 2007-2020
Benefit from analysts' recommendations right now
Top up trading account
Get a bonus from InstaForex
InstaForex analytical reviews will make you fully aware of market trends! Being an InstaForex client, you are provided with a large number of free services for efficient trading.