Relevance up to 05:00 2020-01-28 UTC–8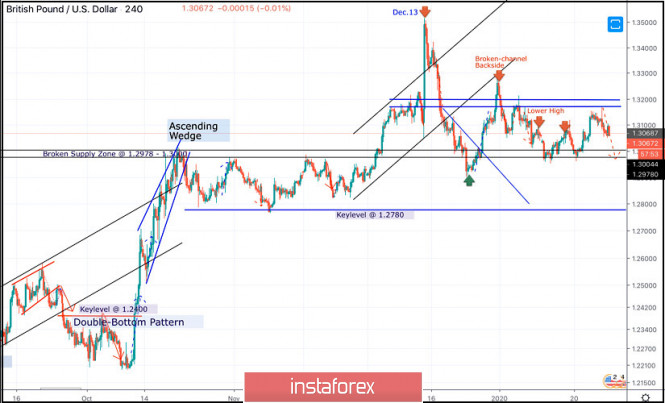 On December 13, the GBPUSD pair looked overpriced around the price levels of 1.3500 while exceeding the upper limit of the newly-established bullish channel.
On the period between December 18 – 23, bearish breakout below the depicted channel followed by initial bearish closure below 1.3000 were demonstrated on the H4 chart.
However, earlier signs of bullish recovery were manifested around 1.2900 denoting high probability of bullish pullback to be expected.
Thus, Intraday technical outlook turned into bullish after the GBP/USD has failed to maintain bearish persistence below the newly-established downtrend line.
That's why, bullish breakout above 1.3000 allowed the recent Intraday bullish pullback to pursue towards 1.3250 (the backside of the broken channel) where bearish rejection and another bearish swing were suggested for conservative traders in previous articles.
Intraday technical outlook was supposed to remain bearish as long as the pair maintains its movement below 1.3120 (recently established descending high).
However, recent bullish breakout above 1.3100-1.3120 is being demonstrated Today.
This hindered the intraday bearish scenario. Thus, further bullish advancement was expected towards 1.3200.
In the Meanwhile, Intraday traders can watch any bullish pullback towards the depicted price zone (1.3170 – 1.3200) for bearish rejection and another valid SELL entry with intraday bearish targets projected towards 1.3000 and 1.2980.
On the other hand, conservative traders can wait for bearish breakdown below 1.2980.
This would be needed first to enhance further bearish decline towards 1.2900, 1.2800 and 1.2780 where the backside of the previously-broken downtrend is located.
*The market analysis posted here is meant to increase your awareness, but not to give instructions to make a trade.
Performed by Mohamed Samy,
Analytical expert
InstaForex Group © 2007-2020
Benefit from analysts' recommendations right now
Top up trading account
Get a bonus from InstaForex
InstaForex analytical reviews will make you fully aware of market trends! Being an InstaForex client, you are provided with a large number of free services for efficient trading.