GBP/NZD
A reversal divergence is formed on the weekly chart using the Marlin oscillator. The price of the current candle for a short time went above the level of 2.0425 and returned under it. This level is very strong and has strategic importance. Starting from May 2010, the price reversed from it many times or accelerated after the breakdown.
Now we are seeing a price reversal from the level down. The first goal of the decline will be to support the MACD line at 1.9900, however, this is only the beginning. If a reversal does occur, the MACD line will be overcome. This will become an additional strengthening bearish factor and the price will fall to the target level of 1.8958 – until the top of May 2017. Overcoming the level opens the way to an even lower goal of 1.8274 – the minimum of July 2019.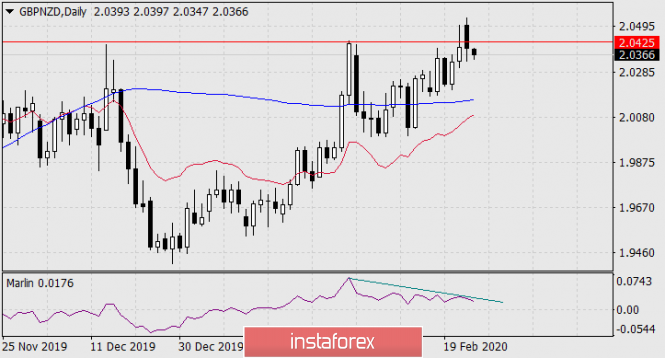 According to the daily chart of the GBP/NZD pair, the divergence has already been formed.
As seen on the H4, a double divergence is already in effect and the Marlin oscillator – in the fall zone of the trend.
*The market analysis posted here is meant to increase your awareness, but not to give instructions to make a trade.
Performed by Laurie Bailey,
Analytical expert
InstaForex Group © 2007-2020
Benefit from analysts' recommendations right now
Top up trading account
Get a bonus from InstaForex
InstaForex analytical reviews will make you fully aware of market trends! Being an InstaForex client, you are provided with a large number of free services for efficient trading.