Relevance up to 11:00 UTC–8
Bearish divergence warning signs in the RSI in the 4 hour chart. Price is pulling back from 1.3330 towards 1.3295 with potential of moving even lower towards 1.32-1.3150.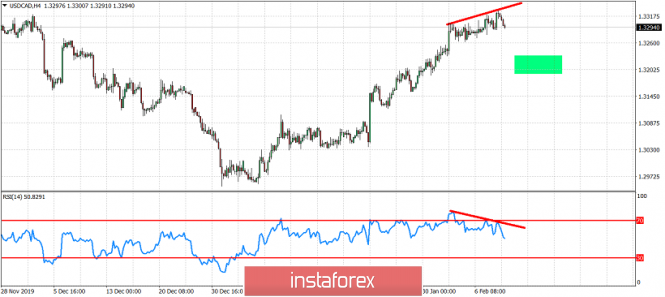 Red lines – bearish divergence
Green rectangle – target area
USDCAD is turning lower. Short-term support is at 1.3285 and I expect price to move even lower towards 1.32. With the RSI turning lower from overbought levels, in the short-term we expect selling pressures to continue to push price towards our target area.
*The market analysis posted here is meant to increase your awareness, but not to give instructions to make a trade.
Performed by Alexandros Yfantis,
Analytical expert
InstaForex Group © 2007-2020
Benefit from analysts' recommendations right now
Top up trading account
Get a bonus from InstaForex
InstaForex analytical reviews will make you fully aware of market trends! Being an InstaForex client, you are provided with a large number of free services for efficient trading.