Relevance up to 05:00 2020-02-14 UTC–8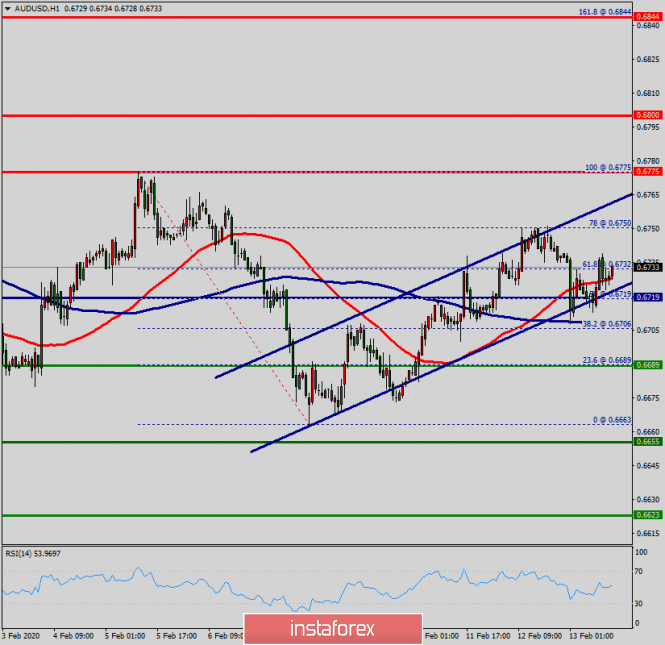 Overview:
The pair is trading below its pivot point. It is likely to trade in a lower range as long as it remains below the pivot point. The pivot point stands at 0.6719. The AUD/USD pair continues to move downwards from the level of 0.6775, which represents the double top in the H1 chart. The pair dropped from the level of 0.6775 to the bottom around 0.6663. Today, the first resistance level is seen at 0.6775 followed by 0.6800, while daily support is seen at the levels of 0.6689 and 0.6655. According to the previous events, the AUD/USD pair is still trapping between the levels of 0.6655 and 0.6775. Hence, we expect a range of 120 pips in coming hours. The first resistance stands at 0.6775, for that if the AUD/USD pair fails to break through the resistance level of 0.6775, the market will decline further to 0.6689. This would suggest a bearish market because the RSI indicator is still in a negative area and does not show any trend-reversal signs. The pair is expected to drop lower towards at least 0.6689 in order to test the second support (0.6655). Short positions are recommended with the first target at 0.6689. A break of that target will move the pair further downwards to 0.6655 . On the contrary, if a breakout takes place at the resistance level of 0.6820 (the double top), then this scenario may become invalidated.
*The market analysis posted here is meant to increase your awareness, but not to give instructions to make a trade.
Performed by Mourad El Keddani,
Analytical expert
InstaForex Group © 2007-2020
Benefit from analysts' recommendations right now
Top up trading account
Get a bonus from InstaForex
InstaForex analytical reviews will make you fully aware of market trends! Being an InstaForex client, you are provided with a large number of free services for efficient trading.