Relevance up to 02:00 2019-12-04 UTC–8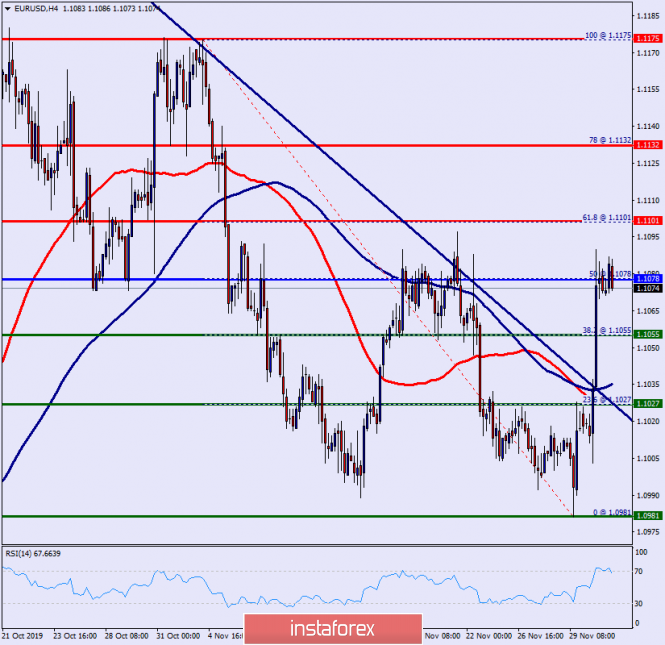 Overview:
The EUR/USD pair continues to move upwards from the level of 1.1027. Today, the first support level is currently seen at 1.1027, the price is moving in a bullish channel now.
Amid the previous events, the price is still moving between the levels of 1.1027 and 1.1132.
The daily resistance and support are seen at the levels of 1.1101 and 1.1132 respectively. In consequence, it is recommended to be cautious while placing orders in this area. Thus, we should wait until the uptrend channel has completed.
Furthermore, if the trend is able to break out through the first resistance level at 1.1101, we should see the pair climbing towards the double top (1.1132) to test it.
Therefore, buy above the level of 1.1055 with the first target at 1.1101 in order to test the daily resistance 2 and further to 1.1132. Also, it might be noted that the level of 1.1175 ais a good place to take profit because it will form a double top.
Moreover, in larger time frames the trend is still bullish as long as the level of 1.1027 is not breached. This support (1.1027) has been rejected two times confirming the validity of an uptrend.
However, it would also be sage to consider where to place a stop loss; this should be set below the second support of 1.0981.
*The market analysis posted here is meant to increase your awareness, but not to give instructions to make a trade.
Performed by Mourad El Keddani,
Analytical expert
InstaForex Group © 2007-2019
Benefit from analysts' recommendations right now
Top up trading account
Get a bonus from InstaForex
InstaForex analytical reviews will make you fully aware of market trends! Being an InstaForex client, you are provided with a large number of free services for efficient trading.