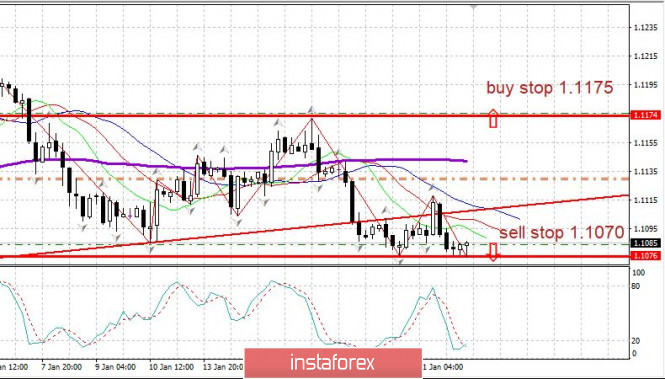 EUR / USD continues to stand directly on the support line 1.1070 – 1.1080.
On the one hand, this is a good buying opportunity, with a short stop. For example, in this current situation, you can buy from 1.1085 and then stop at 1.1060.
Right now both directions are equally probable. The course can break down to 1.1070 and fall sharply lower, but at the same time, can also bounce above 1.1100.
This is all the maneuvers before the ECB meeting tomorrow, January 23. And the market has already begun to get nervous.
About volatility and earning on FX:
Volatility, obviously, is associated with the possibility of speculative income, where, the larger the price movement, the greater the opportunity to increase capital on this movement. This is, if you managed to open a deal in the right direction.
Since a FX trader can open a deal in such a volume that his account can be increased by 100% or burn up to 0%, in a very short time, many mistakenly consider the FX market highly volatile. However, this is the volatility of the account achieved by huge leverage during trading. Such volatility does not help to earn a lot due to strong pullback movements within the main trend, with a high shoulder, which can kill the trader's account on the pullback.
Real volatility is considered as a percentage of the price change, to the price of an asset for a year. For example:
EUR / USD's maximum-minimum change for 5 years is 1.0300 – 1.2500. That is only 22% of the price change for 5 years. Meanwhile, for 3 years it went from 1.2500 – 1.0900, which is equivalent to 16%. Lastly, for 1.5 years it ranged from 1.1800 – 1.0900 which is equivalent to only 9%.
Only 9% of the price change in 1.5 years, Karl! This is a bond price change!
Compare, with the most recent example – Tesla's shares rose tens of percent over several months.
Yes. Again, using a high margin leverage, you can increase sharply the volatility of your account. However, this will not change the profitability / risk ratio, because both potential profitability and risk will grow simultaneously and many times. The size of the potential profit will increase, but at the same time, the chance to get this profit will decrease.
In the highly volatile market, the profit / risk ratio is growing. Just grab the start of the movement and the big profit is almost in your hands. In entering a large volume in a low-volatility market, you are much likely to see a price reversal very close to the entry point and will not make a profit.
*The market analysis posted here is meant to increase your awareness, but not to give instructions to make a trade.