Relevance up to 00:00 2020-01-31 UTC–8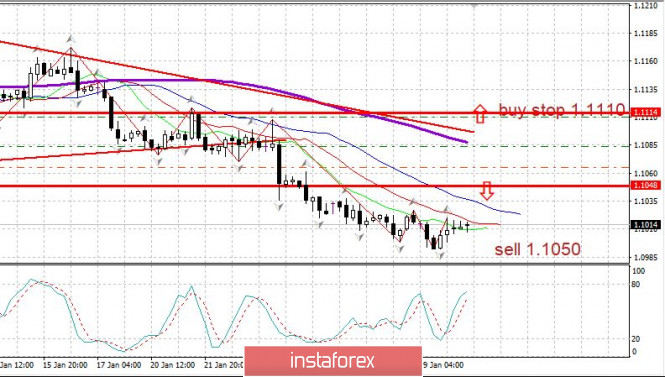 The coronavirus epidemic in China continues, but it seems that the spread of the epidemic began to slow down. The measures of the Chinese authorities to restrict travel in the regions where the disease spreads are beginning to have an effect, as well as its preventive measures.
The second event for the market will be the report on the US GDP at 13:30 UTC.
According to forecasts, the GDP growth in the 4th quarter reached +1.8% +1.9%.
If the actual data deviates significantly from the forecast, we can expect a strong movement in currencies. Where, if we see the GDP growth higher than +2.5%, the dollar will strengthen, however, if the report is lower than +1.2%, the dollar will weaken.
In the case of data at the forecast level, we do not expect strong movements.
EURUSD:
The fall of the euro stops.
The downward movement of the euro seems to fizzle out.
For now, we keep sales from 1.1084 and we will not add sales until the growth of the euro.
The signal for euro's growth is at the level of 1.1110 and above.
*The market analysis posted here is meant to increase your awareness, but not to give instructions to make a trade.
Performed by Sam Alan,
Analytical expert
InstaForex Group © 2007-2020
Benefit from analysts' recommendations right now
Top up trading account
Get a bonus from InstaForex
InstaForex analytical reviews will make you fully aware of market trends! Being an InstaForex client, you are provided with a large number of free services for efficient trading.