Long-term review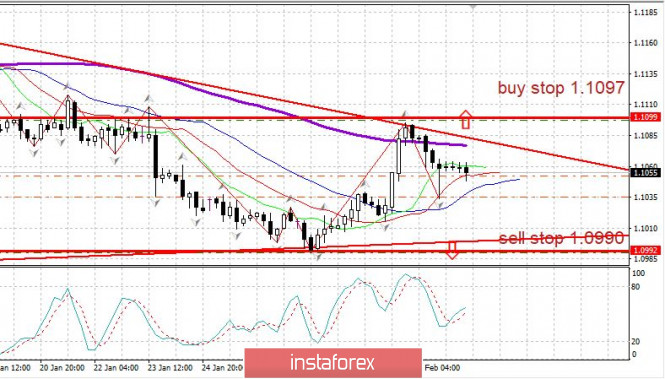 The epidemic in China will remain the main theme until the Chinese authorities manage to stop the increase in the number of cases, or at least significantly reduce the growth rate of diseases. Right now it is increasing to about 10% per day, which is a little bit too much. Currently, there are 20 thousand cases and it is expected that by mid-February, this will double to 40 thousand cases.
On the other hand, the epidemic seems to play in favor of the US dollar. And in addition, Trump's victory over impeachment is also in favor of the dollar where Democrats look debilitated.
On Monday, the ISM Industrial Index showed industrial growth in the US. This is for the first time in several months.
The US employment report for January will be on Wednesday which comes from ADP, while the report on the nonfarm is set on Friday. Both of which are important.
EURUSD:
Sell from 1.0990.
Buy from 1.1100.
*The market analysis posted here is meant to increase your awareness, but not to give instructions to make a trade.
Performed by Sam Alan,
Analytical expert
InstaForex Group © 2007-2020
Benefit from analysts' recommendations right now
Top up trading account
Get a bonus from InstaForex
InstaForex analytical reviews will make you fully aware of market trends! Being an InstaForex client, you are provided with a large number of free services for efficient trading.