Relevance up to 22:00 UTC–8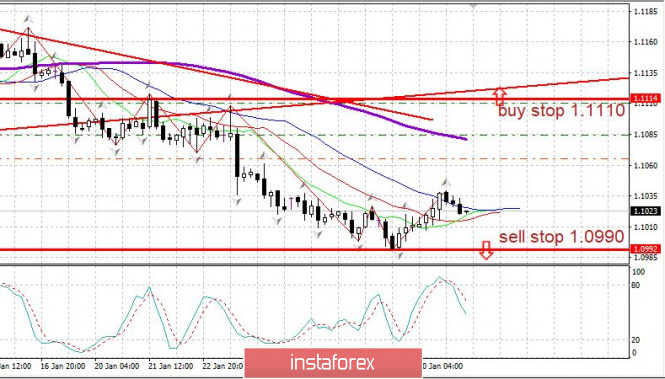 The coronavirus and the epidemic in China is still the number 1 topic. The number of deaths rose to 213, while the number of infected people rose to 9,600. Nevertheless, the growth rate of the infected people is slowing down, and it is likely that the epidemic will be localized. The United States has advised its citizens not to travel to China.
Despite the difficult situation, the US market showed strong growth on Thursday, as a strong report on GDP growth for the 4th quarter was released. It recorded an increase of 2.1%, which is above economists' forecast.
At the same time, the pound showed a strong daily growth, reacting to the Bank of England keeping the rate unchanged (the market expected a rate cut).
EUR/USD:
The fall has stopped, but there is no signal for growth yet.
Keep selling from 1.1084.
Sell from 1.0990 for a breakout.
Buy from 1.1110 for a breakout.
Today, at 14:30 London time, data on inflation in the United States will be released.
*The market analysis posted here is meant to increase your awareness, but not to give instructions to make a trade.
Performed by Sam Alan,
Analytical expert
InstaForex Group © 2007-2020
Benefit from analysts' recommendations right now
Top up trading account
Get a bonus from InstaForex
InstaForex analytical reviews will make you fully aware of market trends! Being an InstaForex client, you are provided with a large number of free services for efficient trading.