Relevance up to 00:00 2020-02-12 UTC–8
USD/JPY is trading in the green according to the daily chart, it maintains a bullish outlook as the Nikkei continues to stay higher. The pair is trading at 109.89 level, another higher high will really confirm a further increase in the upcoming period.
Stochastic indicator is signaling overbought market consitions on the Daily chart, but we cannot take a decision only based on this indicator. USD/JPY resumes the yesterday's bullish candle, the near-term target is seen at the 110.00 psychological level.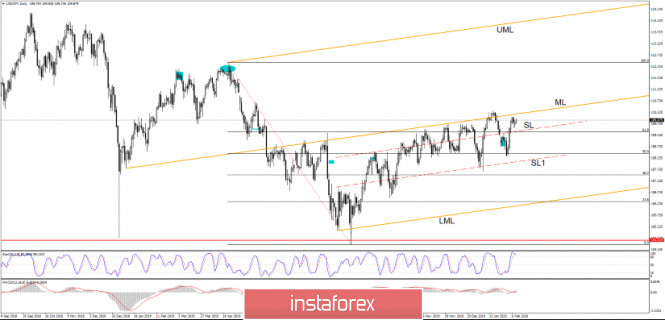 USD/JPY tries to approach and touch the median line (ML) of the major ascending pitchfork. A valid breakout and a higher high (above 110.28) could lead the price towards 100% level, 112.38 level.
The pair has decreased a little on Friday as the JP225 has decreased as well, but USD/JPY has failed to reach and retest the inside sliding line (SL) and the 61.8% retracement level. USD/JPY should make a valid breakout above the median line (ML) as soon as possible because if it continues to stay below this dynamic resistance, a rejection may appear.
A potential upside movement could be invalidated only after a drop below the 61.8% and below the sliding parallel line (SL) of the ascending pitchfork. There is a strong bullish pressure on the daily chart, USD/JPY is attracted by the median line, which acts like a magnet, that's why a valid breakout and a further increase is favored.
The major upside target remains at the upper median line (UML) of the ascending pitchfork, USD/JPY could approach this target if it stabilizes above the median line (ML) and if the JP225 index reaches fresh new highs in the upcoming period.
*The market analysis posted here is meant to increase your awareness, but not to give instructions to make a trade.
Performed by Ralph Shedler,
Analytical expert
InstaForex Group © 2007-2020
Benefit from analysts' recommendations right now
Top up trading account
Get a bonus from InstaForex
InstaForex analytical reviews will make you fully aware of market trends! Being an InstaForex client, you are provided with a large number of free services for efficient trading.