Relevance up to 07:00 2019-12-05 UTC–8
In our previous posts I mentioned that USDJPY price has formed a bearish wedge pattern. We also noted that resistance is at 109.60-110.30 area, where price got rejected yesterday. Now price is moving below and out of the wedge pattern. This is a sign of weakness.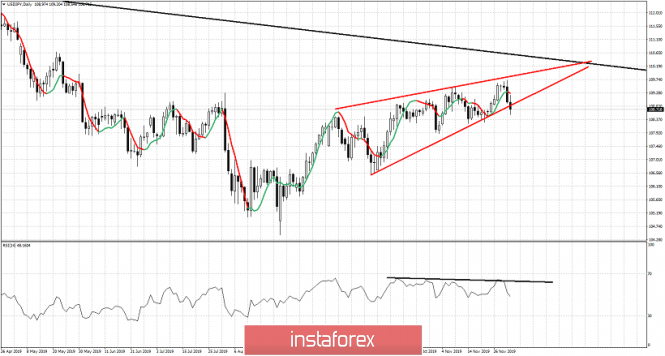 Red lines – wedge pattern
Black line – bearish divergence
USDJPY is breaking support at the lower wedge boundary. Next support is at 108.20-108.30. If price breaks below 108.20-108.30 then we have confirmation of the wedge break down. Resistance remains at 109.90 now while longer-term resistance is at the 110.30 level. The sequence of higher highs and higher lows remains intact, as long as price is above 108.20. If this sequence gets canceled then we have confirmation of the break down and we should expect price to at least move towards 106.55.
*The market analysis posted here is meant to increase your awareness, but not to give instructions to make a trade.
Performed by Alexandros Yfantis,
Analytical expert
InstaForex Group © 2007-2019
Benefit from analysts' recommendations right now
Top up trading account
Get a bonus from InstaForex
InstaForex analytical reviews will make you fully aware of market trends! Being an InstaForex client, you are provided with a large number of free services for efficient trading.